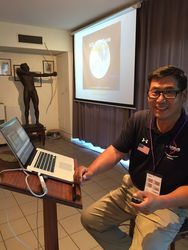 The second European KSL Coaching Seminar held in Brussels has now concluded with 7 more coaches achieving Level 2 KLICC.
A stunning, educational and fun coaching course with participant satisfaction rate of 94%. That is the synopsis of a 5-day seminar with one of the best coaches in the world at InterACTs.
From October 1st-5th, 2014 Brussels was again honored to receive USA head coach KiSik Lee for a 5-day International archery training and coaching seminar. The Brussels club 'Grand Serment Royal des Archers de Saint Sébastien' (founded around 1381 and home to Hubert Van Innis and Oscar Kessels) opened their doors for 11 countries to attend this follow-up event in the aftermath of last year's InterACTs.
Following the three day course there are now 22 who have passed the Level 1 KLICC theory course throughout Europe. Level 2 was also introduced for the first time at this InterACTs event and 7 proud coaches from Germany (2), Belgium (2), Luxenburg (1) and Turkey (2) passed the rigorous practical exam which lasted up to 90 minutes per coach. These coaches were required to demonstrate their knowledge and coaching ability in front of Mr Lee and KLICC founder, Jon Barnard.
Ben Van Bulck, President of the Belgian Archery Academy (BAA) says this event solidified the presence of KiSik Lee International Coaching Certification in Europe and will open the doors for a Pan-European coaching platform outside the scope of national federations to provide the tools for archers and coaches with an unquenchable thirst for best practice and knowhow.
The organization wishes to thank their sponsors and partners: Belgian Olympic Committee, Accor Hotels, Redbull, the Brussels club 'Grand Serment Royal des Archers de Saint Sébastien' and everyone who gave their best to bring the event to completion.
The InterACTs team barely has the time to recover from this adventure as the next one is already being set up for next year. So see you at InterACTs 2015.
New Level 2 Coaches
Karsten Sprenger
Luc Schuler
Dirk Schmidt
Goktug Ergin
Ingrid Brioen
Macide Erdener
Mathias Van Bulck
New Level 1 Instructors and Archers
Ersebet Sinka
Rolf Ronnlund
Juha Viitaoja
Vaclav Bednar
Peter Raeves
Macide Erdener
Quentin Leroy
Darko Gespaher
Further information and photos can be found
here